WINTER AT ALPE LUSIA IS FULL OF EVENTS
MUSIC, LOCAL PRODUCTS AND MANY UNFORGETTABLE EMOTIONS.
Throughout the winter season, a tour ski chalets at Alpe Lusia Ski Area they organize a lot of events to celebrate the beauty of this place, the good food and music. The Tourism Board Office of Val di Fiemme and Val di Fassa often support events in cooperation with the ski lift companies or with the owners of the ski chalets. Some of the most amazing events are Trentino Ski Sunrise, the cheese and local products tastings of Happy Cheese and the musical events of Dolomiti Ski Jazz and of Val di Fassa Panorama Music.
In March, when the days get warmer, on the terraces of the ski chalets they organize exciting concerts for free. If you want to add a touch of magic to your holidays, read our program of events!
Fireshow
Bellamonte
Friday, 30th December 2022 - 5 PM
Thursday, 5th January 2023 - 5 PM
At the start of the Gondola Bellamonte 3.0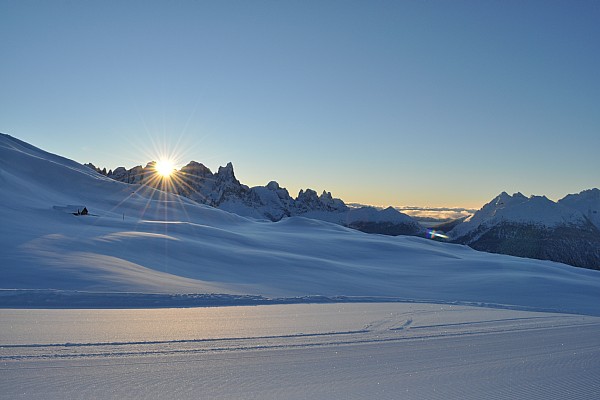 Trentino Ski Sunrise
Chalet 44 Alpine Lounge
Thursday 2nd March 2023, 5.40 AM
The first light of the day touching the white peaks, the tingling air, the immaculate snow and the breathtaking mountain landscape.
Add to that a delicious hearty breakfast in a warm and cosy mountain hut with sweet and savoury traditional local specialities.
Find out more