Alta via OF Viezzena
DIFFICULTY ✪✪
From Bellamonte
Duration: 4.30 h
Length: 8 km
Ascent: 500 m
From Moena
Duration: 3 h
Length: 3,5 km
Ascent: 300 m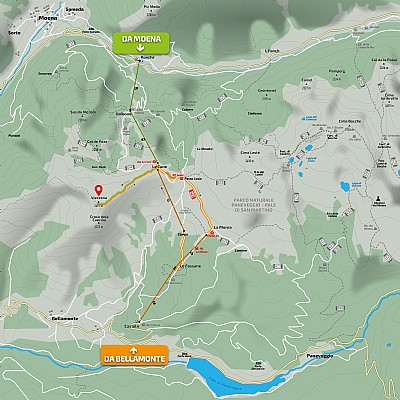 This path at height offers a stunning 360° view on the surrounding mountains. From Le Cune (2202 m), take the path without number, which develops south-west towards the summit behind the arrival of the chair lift Piavac. Proceed until Cima Viezzena (2490 m) and its cross on the summit. To come back, take the same path.
FROM BELLAMONTE
Take the cable car Bellamonte 3.0 until La Morea (1970 m), access the path connecting to the forestry route n. 623 and turn left until Passo Lusia (2056 m). Walk up on the left side along a steep path, taking to Le Cune (2200 m).
FROM MOENA
Take the cable car from Ronchi to Le Cune, where the path to summit starts.
TIPS: this path is at its high splendour between the end of June and the half of July, where in the first part you cross a lawn of blooming rhododendrons.